Shooting for me started on Tuesday, with the Masefield Championship; a match of 7 shots at each of the 300, 600, 800, and 1000-yard lines.  This seemed like a good match to get settled in and get solid zeroes at 4 different distances before the big matches started.  This was a good plan, as I definitely was not settled in that day.  Unfortunately, I was also not settled in the next day, which was the first day of the NZ National Championship – the Ballinger Belt Series.  I thought that since I had shot on this range and done well only a year before, that I'd be able to pick things up where I left off and continue shooting well.  That was a mistake.  It took 2 full days of shooting (and some position coaching from Morgen Dietrich and other team mates after day 2) before I finally felt comfortable and was consistently breaking good shots.  By then, the Ballinger Belt was all but over for me, so I decided to use the rest of the aggregate to fine-tune the positional changes and get my mind right for the upcoming World Championship.
The Belt Series wrapped up with a final shoot-off of the top 21 shooters, and Team USA was well-represented, placing four shooters in the final.  Ray Gross (#7), Nate Guernsey (#14),Trudie Fay (#6), and Brian Mrnak (#19), all participated in the final 15-shots at 900 yards to decide the NZ National Champion.  Australia's Jim Bailey came out on top, but it wasn't without a fight.  Team USA's Nate Guernsey shot an incredible 74-3v (out of 75-15v possible) in the final to move up 11 places to finish third overall.  No one in the top 10 managed a score in the 70's, and some were even below 60.  Nate's score in this condition was simply amazing, and it was no accident.  Over the last year, I don't think anyone has put more time and effort into this sport than Nate has.  Team USA was proud to have one of our own on the podium for the awards ceremony.
On Sunday February 3rd, the International Teams Matches were held.  These matches serve as the World Championships for the Under 21, Under 25, and Veterans teams.  The Australians set the bar high, winning 2 of those 3 matches as their U25 and Vets teams sailed to victory.  The Aussies were clearly not here to mess around this year, and all of their coaches and shooters were in top form.  The hosting Kiwi's U21 squad of Beardslee, May, Riddle, Hutching, and Snowden were not intimidated, using their hard-earned understanding of NZ winds to secure the gold medal by 12 points over the Aussies.  Team USA's U21 squad finished in 3rd against very tough competition, while the U25 and vets squads both finished in 4th.  Members of the bronze medal U21 Young Eagles were Jessica Hudson, Justin George, Kevin George, Luke Rettmer, and Trey Frigugglietti.
Opening Ceremonies for the 2019 LRWC followed on Monday morning.  Local Civic Leaders and Maori Elders spoke at the ceremony, welcoming all foreign visitors to New Zealand, and wishing us luck in the matches.  The Kiwi people are some of the nicest I've met anywhere, and they are great ambassadors to the shooting sports.  During our stay, they were truly excellent hosts, and helped visitors in any way they could.
The World Championship Individual Matches consisted of 3 Palma courses of 15 shots each at 800, 900, and 1000 yards – 135 total shots for record.  The ICFRA target uses 5V scoring (as opposed to 10X in the USA), so maximum score is 75 per yard line, 225 per Palma course, and 675 for whole WC agg.  Things kicked off right after lunch on Monday with the first 800-yard stage.  The top 18 shooters stayed clean with 75 points, while the rest of us all lost one or more.  18 may sound like a lot of cleans, but remember that this was only the 800-yard line, and there were over 300 of the world's best Palma shooters on hand.  Things at Trentham are a bit different from we are used to at most US ranges, where the 800-yard line is seen by many shooters as "free points".  There are no free points on this range at any yard line, and it wasn't unusual to lose more points at a single 800 than many US shooters would normally expect to lose in a whole Palma match.
"Challenging" is one word that can be used to accurately describe the range conditions at Trentham.  Other terms that were heard during the matches were "mystifying", "merciless", "brutal", and many others that aren't fit for print.  There just isn't anything to compare it to in the USA, it really has to be seen to be believed.  In the Upper Midwest where I live, top shooters feel intense disappointment when they see a 9, or heaven forbid, an 8 show up on their target.  At Trentham there are plenty of times when after pulling the trigger, you are just hoping that the target goes down and comes back up with a mark somewhere on the paper.  The wind is so strong, and changes so quickly that sometimes all you can do is take the beating.  I consider myself to be a competent wind reader, but there were times when all I could do was make a guess, and hope to catch paper.
These "challenging" conditions stuck around for the rest of the individual matches, and we all learned to adjust our expectations from the scores we shoot at home, to the scores that were possible here.  The best finish I managed in any of the stages was 6th place in the second 900, where my 74-9v was just a point away from a medal.  Only the top 3 shooters scored clean 75's, which is almost unbelievable considering the level of competition.  In that match I started strong shooting 7 quick V's in a rare consistent condition that lasted for about 4 minutes.  After that, the condition changed completely, forcing me to hold for 8 minutes before sadly coming to terms with the fact that my preferred wind just wasn't ever going to come back to me.  With time getting short and 8 shots left, I sent one down in an unfamiliar condition and just caught a 4 on the left side.  I kept the rest in the 5 and V rings and was happy to get off the line only down that single point.  The long holds were something that I got used to, as nearly every string I shot included a hold of 5 minutes or more.  Due to unpredictable things like target pullers, score confusion, etc, I made a rule for myself that if I was in a hold, I would start shooting again when the number of minutes remaining on the clock equaled the number of shots I had left to take, whether I wanted to or not.  I got to that magic time limit 3 times that I remember.  I came close to running out of time more than once, but never did.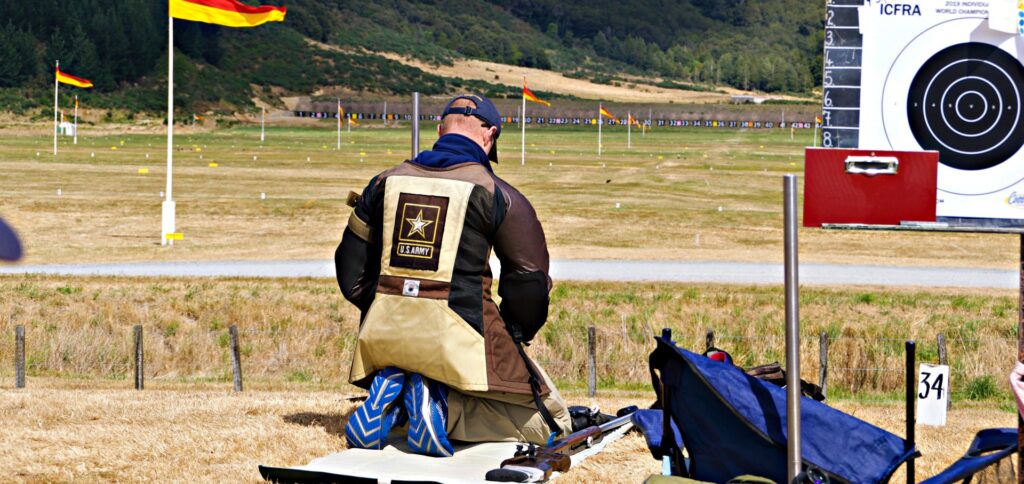 As the aggregate marched on, the top shooters separated themselves from the pack.  Like the Belt Series, the WC also ends with a final shoot-off to decide who would hold the title of "World Champion" for the next 4 years.  After the 135-shot aggregate is over, the top 10 shooters were assembled for a final 15 shots at the 1000-yard line.  These scores would be added to the total agg scores, so big changes can happen in those 15 shots, especially when the Trentham winds are blowing.  Australia again showed they meant business, placing 5 of their shooters in the top 10.  2 Americans, 2 New Zealanders, and one Brit rounded out the field as the spectators gathered.  The conditions were terrifying; there would be no magical 74 fired in this shoot-off.  This time, no one would even break 70, and only half of the 10 best Palma shooters in the world made it to 60.  Great Britain's David Luckman fired the top score of 66-4v, which moved him up to 3rd place, right behind young Mitchell Bailey, son of recently crowned Belt Series Champ Jim Bailey of Australia.  Mitch's fellow Aussie Steve Negus hung on to the lead that he had spent over 3 days building to take the Gold Medal by a single point over Mitch and David.  Steve managed his conditions masterfully over 150 shots, securing Australia their second World Champion in as many cycles.  The USA's best duo of Oliver Milanovic and Brandon Green finished 5th and 6th, respectively, as the rest of Team USA cheered them on.  Making it to those final 15 shots is something very few shooters have ever done, or will ever do, and is definitely something to be proud of.